Welcome to the Tri-Valley Stargazers Astronomy Club's web site. There is a lot of information here on the many activities of the Tri-Valley Stargazers (TVS). Learn why you should join the club to get the most out of your amateur astronomy hobby in the east San Francisco Bay Area.


The Latest News & Upcoming Events
July's meeting
Our July meeting will be our annual Summer BBQ. Plan on working up an appetite by helping to set-up and get the charcoal going at about 6:30pm. We will start eating around 7:00pm.
Jill is arranging to provide hamburgers, hotdogs and vegetarian black bean burgers, along with a variety of toppings. Members are asked to bring a side dish with enough for about five to eight people. Use the first letter of your last name to determine which type of dish to bring:
A-D Appetizer
E-J Dessert
K-O Macaroni or Potato Salad
P-Z Green or Fruit Salad
Upcoming star parties
We have planned the following star parties:
June 30th, Camp Gut Busters
July 9th, Boy Scouts camp on Mines Rd.
July 16th, Boy Scouts camp on Mines Rd.
July 15-17th, Yosemite
July 30th, Tesla Winery Star Party
August 27th, H2O Open House
September 24th, Tesla Winery Star Party
October 7th, Pleasanton RADD Star Party at the Senior Center
Please contact for further information.
The H2O Open Houses will be open to all club members and the public. The Tesla Winery Star Parties will be open to club members and their guests. Start and end times for the parties will be announced later, but we usually plan to arrive at the observing site about 30 minutes before sunset and wrap up around midnight. Mark your calendars now!
Our Tesla Winery Star Parties will have a new twist this year. For those wishing to participate, each party will have a theme and observing list associated with it. Themes suggested so far include a mini-Messier marathon, lunar features observing, planetary night, star cluster observing, beginner's night, and constellation identification. If you have an idea for another theme, please mention it to a board member during any meeting.
TVS Crystal Wine Glasses For Sale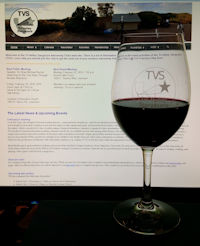 TVS is offering elegant crystal wine glasses for sale to club members. You don't have to drink wine to enjoy the beautiful TVS logo-etched stemware. Use them for your favorite beverage, or they can be used as a beautiful container for small plants. They are the perfect gifts for loved ones or friends. Look for them at club meetings, where they will be sold for $10/each. Don't drink alone, buy two! Support TVS. Thanks to who got these wonderful glasses.
TVS Logo Wear
You may have seen some TVS members wearing shirts and jackets embroidered with the TVS logo. If you are interested in obtaining an embroidered logo item, you can do so by ordering whatever you would like through
Land's End's Corporate Sales
section and specifying TVS logo #0118948. You will need to set up an account, which will ask for the logo number and the TVS customer number (3452021).
TVS has also set up shop at
Cafepress
for members to buy non-embroidered TVS logo wear. You can have the TVS logo put on t-shirts, mugs, buttons, hats, coasters, etc. You buy through Cafepress, and Cafepress sends TVS a portion of the proceeds. Visit the web site to see all the TVS logo possibilities.