Welcome to the Tri-Valley Stargazers Astronomy Club's web site. There is a lot of information here on the many activities of the Tri-Valley Stargazers (TVS). Learn why you should join the club to get the most out of your amateur astronomy hobby in the east San Francisco Bay Area.


The Latest News & Upcoming Events
January's meeting
In 2017 totality only lasts for two minutes. During that time a lot happens. I will use my own experience (both good and bad) to help the participants get the most out of the eclipse experience whether you are going to just view it with your eyes or bring your portable observatory. For those who cannot attend the material I will be presenting (and more) are in the YouTube movies linked from
my website
.
Rob has been active in local astronomy and astronomy outreach since 2002. He is currently active in both the Fremont Peak Observatory Association (where he is Treasurer) and in the Peninsula Astronomy Society. Since 1999 he has been actively chasing the shadow of the moon attending every eclipse (except for 2003 in Antarctica). Along the way he has learned a lot on how to take photographs (and how not to take them). 2017 will be his 14th.
Upcoming star parties
The following star parties hsvr been scheduled:
Saturday 02/04/17, Muslim Community Center, Dublin
Friday 03/03/17, Emma Smith Elementary, Livermore
Friday 03/31/17, Valley Christian Elementary, Dublin
Please contact for further information.
The H2O Open Houses will be open to all club members and the public. The Tesla Winery club Parties will be open to club members and their guests. There will be no more parties this year, but they will resume in the coming spring. Start and end times for the parties will be announced later, but we usually plan to arrive at the observing site about 30 minutes before sunset and wrap up around midnight. Each star party will have a theme, including topics like a tour of the constellations, planets and asteroids, or binocular highlights.
TVS Crystal Wine Glasses For Sale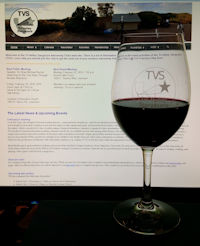 TVS is offering elegant crystal wine glasses for sale to club members. You don't have to drink wine to enjoy the beautiful TVS logo-etched stemware. Use them for your favorite beverage, or they can be used as a beautiful container for small plants. They are the perfect gifts for loved ones or friends. Look for them at club meetings, where they will be sold for $10/each. Don't drink alone, buy two! Support TVS. Thanks to who got these wonderful glasses.
TVS Logo Wear
You may have seen some TVS members wearing shirts and jackets embroidered with the TVS logo. If you are interested in obtaining an embroidered logo item, you can do so by ordering whatever you would like through
Land's End's Corporate Sales
section and specifying TVS logo #0118948. You will need to set up an account, which will ask for the logo number and the TVS customer number (3452021).
TVS has also set up shop at
Cafepress
for members to buy non-embroidered TVS logo wear. You can have the TVS logo put on t-shirts, mugs, buttons, hats, coasters, etc. You buy through Cafepress, and Cafepress sends TVS a portion of the proceeds. Visit the web site to see all the TVS logo possibilities.