Welcome to the Tri-Valley Stargazers Astronomy Club's web site. There is a lot of information here on the many activities of the Tri-Valley Stargazers (TVS). Learn why you should join the club to get the most out of your amateur astronomy hobby in the east San Francisco Bay Area.


The Latest News & Upcoming Events
April's meeting
Famed comet discoverer, and lifetime TVS member, Don Machholz will give a presentation on Charles Messier, his comets, the missing Messier Objects, the idea behind the Marathon, and how to run a Messier Marathon. Then, in the course of about 15 minutes, we will go through the Marathon, object by object, all 110!
In 1965 Don Machholz received his first telescope for his 13th birthday. In 1968-69 he found all of the Messier Objects using a 6-inch Criterion Dynascope. In 1978 he helped to develop the Messier Marathon, and he has conducted more than 50 in the past 39 years. Since 2002 he has been finding all of the Messier objects from memory, using no charts or setting circles. Don has written a book covering the Messier Marathon, based on his years of helping to develop and run Messier Marathons. It was revised and published in 2002 by Cambridge University Press. Since 1975 he has turned his attention to visual comet hunting.
Upcoming star parties
The following star parties hsvr been scheduled:
Saturday 04/22/17, Outreach paty, March for Science, in Livermore
Saturday 04/29/17, Club party at Tesla Winery
Saturday 05/06/17, Outreach party for Girl Scouts, in Tracy
Saturday 05/20/17, H2O Open House
Friday 05/26/17, Outreach party at Muslim Community Center in Pleasanton
Saturday 06/17/17, Club party at Tesla Winery
Sunday 06/25/17, Outreach party at Camp Go Beyond
Saturday 07/08/17, Outreach party for Cub Scouts at Rancho Los Mochos
Saturday 07/15/17, H2O Open House
Saturday 07/15/17, Outreach party for Cub Scouts at Rancho Los Mochos
Saturday 07/22/17, Club party at Tesla Winery
Saturday 08/12/17, Outreach party for Cub Scouts at Rancho Los Mochos
Friday 08/25/17 thru Sunday 08/27/17, Yosemite/Glacier Point
Saturday 09/23/17, Club party at Tesla Winery
Thursday 09/28/17, Outreach party at Livermore Library
Friday 09/29/17, Outreach party RADD at Pleasanton Senior Center
Saturday 10/21/17, Club party at Tesla Winery
Wednesday 11/08/17, Outreach party at Banta Elementary School near Tracy
Please contact for further information.
The H2O Open Houses will be open to all club members and the public. The Tesla Winery club Parties will be open to club members and their guests. Start and end times for the parties will be announced later, but we usually plan to arrive at the observing site about 30 minutes before sunset and wrap up around midnight. Each Tesla star party will have a theme, including topics like a tour of the constellations, planets and asteroids, or binocular highlights.
TVS Crystal Wine Glasses For Sale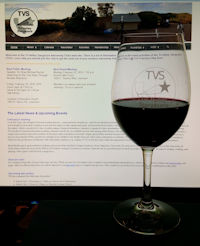 TVS is offering elegant crystal wine glasses for sale to club members. You don't have to drink wine to enjoy the beautiful TVS logo-etched stemware. Use them for your favorite beverage, or they can be used as a beautiful container for small plants. They are the perfect gifts for loved ones or friends. Look for them at club meetings, where they will be sold for $10/each. Don't drink alone, buy two! Support TVS. Thanks to who got these wonderful glasses.
TVS Logo Wear
You may have seen some TVS members wearing shirts and jackets embroidered with the TVS logo. If you are interested in obtaining an embroidered logo item, you can do so by ordering whatever you would like through
Land's End's Corporate Sales
section and specifying TVS logo #0118948. You will need to set up an account, which will ask for the logo number and the TVS customer number (3452021).
TVS has also set up shop at
Cafepress
for members to buy non-embroidered TVS logo wear. You can have the TVS logo put on t-shirts, mugs, buttons, hats, coasters, etc. You buy through Cafepress, and Cafepress sends TVS a portion of the proceeds. Visit the web site to see all the TVS logo possibilities.