Welcome to the Tri-Valley Stargazers Astronomy Club's web site. There is a lot of information here on the many activities of the Tri-Valley Stargazers (TVS). Learn why you should join the club to get the most out of your amateur astronomy hobby in the east San Francisco Bay Area.


The Latest News & Upcoming Events
November's meeting
Dr. Lance Simms will talk about the history of astronomical imaging. Most people know that Galileo revolutionized the field of astronomy when he pointed a telescope up at the heavens in 1610. What is not as widely known is that a similar revolution occurred when John William Draper first moved away from the human eye as the primary astronomical sensor in 1840 and used photographs instead. In this talk, Dr. Simmms will give a brief overview of the history of astronomical imaging and the incredible impact it has had in the fields of astronomy, astrophysics, and cosmology. Along the way, he will delve into a bit of detail on how modern Charge Coupled Devices and CMOS imagers work.
Lance Simms is a physicist/engineer at Lawrence Livermore National Laboratory. He received a BS in Physics from University of California: Santa Barbara in 2003 and a PhD in Applied Physics from Stanford in 2009. His PhD work focused on the application of Hybrid CMOS imagers in astronomy. Nowadays he loves working with whatever detectors he can get his hands on (infrared, visible, X-ray, you name it), and currently characterizes and programs imagers for optical payloads in small satellites.
Board Elections
TVS will hold its annual board elections at the upcoming meeting on November 18th. Chuck Grant will present the slate of candidates and election is by acclimation. The present nominations are:
President - Rich Combs
Vice President - Eric Dueltgen
Treasurer - Roland Albers
Secretary - Joy Milsom
Chuck Grant has decided to step down as President of the TVS. He has served for many years now and we owe him our vote of appreciation. He will continue as Observatory Directory.
Upcoming star parties
We have planned the following star parties:
December 7th, Outreach at Sunset Elementary School in Livermore
Please contact for further information.
The H2O Open Houses will be open to all club members and the public. The Tesla Winery club Parties will be open to club members and their guests. There will be no more parties this year, but they will resume in the coming spring. Start and end times for the parties will be announced later, but we usually plan to arrive at the observing site about 30 minutes before sunset and wrap up around midnight. Each star party will have a theme, including topics like a tour of the constellations, planets and asteroids, or binocular highlights.
TVS Crystal Wine Glasses For Sale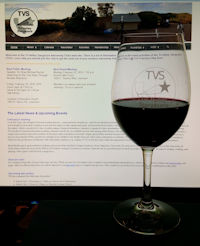 TVS is offering elegant crystal wine glasses for sale to club members. You don't have to drink wine to enjoy the beautiful TVS logo-etched stemware. Use them for your favorite beverage, or they can be used as a beautiful container for small plants. They are the perfect gifts for loved ones or friends. Look for them at club meetings, where they will be sold for $10/each. Don't drink alone, buy two! Support TVS. Thanks to who got these wonderful glasses.
TVS Logo Wear
You may have seen some TVS members wearing shirts and jackets embroidered with the TVS logo. If you are interested in obtaining an embroidered logo item, you can do so by ordering whatever you would like through
Land's End's Corporate Sales
section and specifying TVS logo #0118948. You will need to set up an account, which will ask for the logo number and the TVS customer number (3452021).
TVS has also set up shop at
Cafepress
for members to buy non-embroidered TVS logo wear. You can have the TVS logo put on t-shirts, mugs, buttons, hats, coasters, etc. You buy through Cafepress, and Cafepress sends TVS a portion of the proceeds. Visit the web site to see all the TVS logo possibilities.