Welcome to the Tri-Valley Stargazers Astronomy Club's web site. There is a lot of information here on the many activities of the Tri-Valley Stargazers (TVS). Learn why you should join the club to get the most out of your amateur astronomy hobby in the east San Francisco Bay Area.


The Latest News & Upcoming Events
May's meeting
In 2018, an Ariane 5 rocket will blast off from Earth and begin a long, 1 million mile journey to the second Sun-Earth Lagrange Point. Its cargo will be arguably one of the most expensive and precious instruments NASA has ever made: the James Webb Space Telescope (JWST). As the successor to the Hubble Space Telescope, JWST will peer deeper into the universe than ever before. It will unlock secrets that we haven't even begun to imagine. In this short talk, Dr. Lance Sims will give an overview of the astounding engineering challenges behind JWST and describe some of the scientific questions it will try to answer. He will also try to convey that all of his previous statements depend on mission success, which is by no means guaranteed.
Lance Simms is a physicist/engineer at Lawrence Livermore National Laboratory. He received a B.S. in Physics from University of California: Santa Barbara in 2003 and a Ph.D. in Applied Physics from Stanford in 2009. His Ph.D. work focused on the application of Hybrid CMOS imagers in astronomy. Nowadays, he loves working with whatever detectors he can get his hands on (infrared, visible, X-ray, you name it), and he currently characterizes and programs imagers for optical payloads on small satellites.
H2O Open House
Our next open house is scheduled for Saturday, May 20th at the club's dark sky site,
Hidden Hill Observatory
, aka H2O.
Anyone can come to our open houses, not just club members; but you cannot go there without an escort. We will meet at the corner of Mines and Tesla Roads at 6:30 PM, then caravan to the site on a drive that takes about 50 minutes. The admission is $3/car; please bring the exact amount. There is no gas on the way, so be sure to gas up before leaving. The site is essentially in the wilderness, so there is no electricity and water, and there are only a couple of pit toilets. Cell-phone reception is iffy at best. While there is a picnic table there, you really should bring your own chair. If you need to see what you are doing, bring a red LED flashlight, not a white-light flashlight. And use masking tape over your car door and interior lights, or pull the fuse. If you don't have a scope, you can always find someone who is willing to let you look through theirs. And don't forget to bring your binoculars. Expect to stay until about midnight and get back to Livermore at around 1:00 AM.
Upcoming star parties
The following star parties hsvr been scheduled:
Saturday 05/20/17, H2O Open House
Friday 05/26/17, Outreach party at Muslim Community Center in Pleasanton
Saturday 06/17/17, Club party at Tesla Winery
Sunday 06/25/17, Outreach party at Camp Go Beyond
Saturday 07/08/17, Outreach party for Cub Scouts at Rancho Los Mochos
Saturday 07/15/17, H2O Open House
Saturday 07/15/17, Outreach party for Cub Scouts at Rancho Los Mochos
Saturday 07/22/17, Club party at Tesla Winery
Saturday 08/12/17, Outreach party for Cub Scouts at Rancho Los Mochos
Friday 08/25/17 thru Sunday 08/27/17, Yosemite/Glacier Point
Saturday 09/23/17, Club party at Tesla Winery
Thursday 09/28/17, Outreach party at Livermore Library
Friday 09/29/17, Outreach party RADD at Pleasanton Senior Center
Saturday 10/21/17, Club party at Tesla Winery
Wednesday 11/08/17, Outreach party at Banta Elementary School near Tracy
Please contact for further information.
The theme for the next Tesla meeing is Messier objects. The H2O Open Houses will be open to all club members and the public. The Tesla Winery club Parties will be open to club members and their guests. Start and end times for the parties will be announced later, but we usually plan to arrive at the observing site about 30 minutes before sunset and wrap up around midnight. Each Tesla star party will have a theme, including topics like a tour of the constellations, planets and asteroids, or binocular highlights.
TVS Crystal Wine Glasses For Sale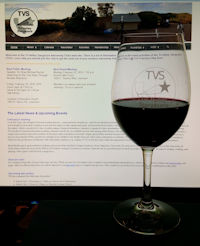 TVS is offering elegant crystal wine glasses for sale to club members. You don't have to drink wine to enjoy the beautiful TVS logo-etched stemware. Use them for your favorite beverage, or they can be used as a beautiful container for small plants. They are the perfect gifts for loved ones or friends. Look for them at club meetings, where they will be sold for $10/each. Don't drink alone, buy two! Support TVS. Thanks to who got these wonderful glasses.
TVS Logo Wear
You may have seen some TVS members wearing shirts and jackets embroidered with the TVS logo. If you are interested in obtaining an embroidered logo item, you can do so by ordering whatever you would like through
Land's End's Corporate Sales
section and specifying TVS logo #0118948. You will need to set up an account, which will ask for the logo number and the TVS customer number (3452021).
TVS has also set up shop at
Cafepress
for members to buy non-embroidered TVS logo wear. You can have the TVS logo put on t-shirts, mugs, buttons, hats, coasters, etc. You buy through Cafepress, and Cafepress sends TVS a portion of the proceeds. Visit the web site to see all the TVS logo possibilities.