Welcome to the Tri-Valley Stargazers Astronomy Club's web site. There is a lot of information here on the many activities of the Tri-Valley Stargazers (TVS). Learn why you should join the club to get the most out of your amateur astronomy hobby in the east San Francisco Bay Area.





August meeting cancelled
Our regular August meeting of 08/18/17 has been cancelled. Too many members of the club will be off in Oregon or other places to see the solar eclipse on 08/21/17. We will be back to normal for the September meeting, which will feature presentations by these members about what they saw.
Next Public Meeting

Speaker:TVS club members
Eclipse observations

Friday, September 15, 2017
Note: August's meeting has cancelled
Doors open at 7:00 p.m.
Show & Tell starts at 7:30 pm
Talk follows

Unitarian Universalist Church
1893 N. Vasco Rd., Livermore



Next Board Meeting

Monday, September 18, 2017, 7:30 p.m.
Round Table Pizza
1024 E. Stanley Blvd, Livermore

Members are always welcome at board meetings. Pizza is optional.

The Latest News & Upcoming Events
July's Meeting
The slides from Ejner Fulsang's talk can now be seen
here
.
August's meeting
August's meeting has been cancelled. Too many club members will be off observing the solar eclipse to make a meeting practical.
September's meeting
This meeting will feature short presentations by those who were able to get away to see the solar eclipse on 08/21/17. You can expect there to be plenty of slides and movies showing the phenomenon, and maybe a few pictures as well of the antics of those people who participated in the event.
Upcoming star parties
The following star parties hsvr been scheduled:
Saturday 08/12/17, Outreach party for Cub Scouts at Rancho Los Mochos
Friday 08/25/17 thru Sunday 08/27/17, Yosemite/Glacier Point
Saturday 09/23/17, Club party at Tesla Winery
Thursday 09/28/17, Outreach party at Livermore Library
Friday 09/29/17, Outreach party RADD at Pleasanton Senior Center
Saturday 10/21/17, Club party at Tesla Winery
Wednesday 11/08/17, Outreach party at Banta Elementary School near Tracy
The H2O Open Houses are generally open to all club members and the public. The Tesla Winery club parties are generally open to club members and their guests. Start and end times for the parties will be announced later, but we usually plan to arrive at the observing site about 30 minutes before sunset and wrap up around midnight Please contact for further information.
TVS Crystal Wine Glasses For Sale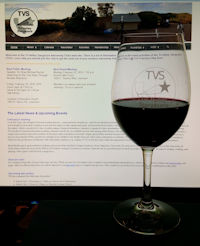 TVS is offering elegant crystal wine glasses for sale to club members. You don't have to drink wine to enjoy the beautiful TVS logo-etched stemware. Use them for your favorite beverage, or they can be used as a beautiful container for small plants. They are the perfect gifts for loved ones or friends. Look for them at club meetings, where they will be sold for $10/each. Don't drink alone, buy two! Support TVS. Thanks to who got these wonderful glasses.
TVS Logo Wear
You may have seen some TVS members wearing shirts and jackets embroidered with the TVS logo. If you are interested in obtaining an embroidered logo item, you can do so by ordering whatever you would like through
Land's End's Corporate Sales
section and specifying TVS logo #0118948. You will need to set up an account, which will ask for the logo number and the TVS customer number (3452021).
TVS has also set up shop at
Cafepress
for members to buy non-embroidered TVS logo wear. You can have the TVS logo put on t-shirts, mugs, buttons, hats, coasters, etc. You buy through Cafepress, and Cafepress sends TVS a portion of the proceeds. Visit the web site to see all the TVS logo possibilities.